October 22nd, 2021
Team RSE garners multiple honors from Los Angeles PRSA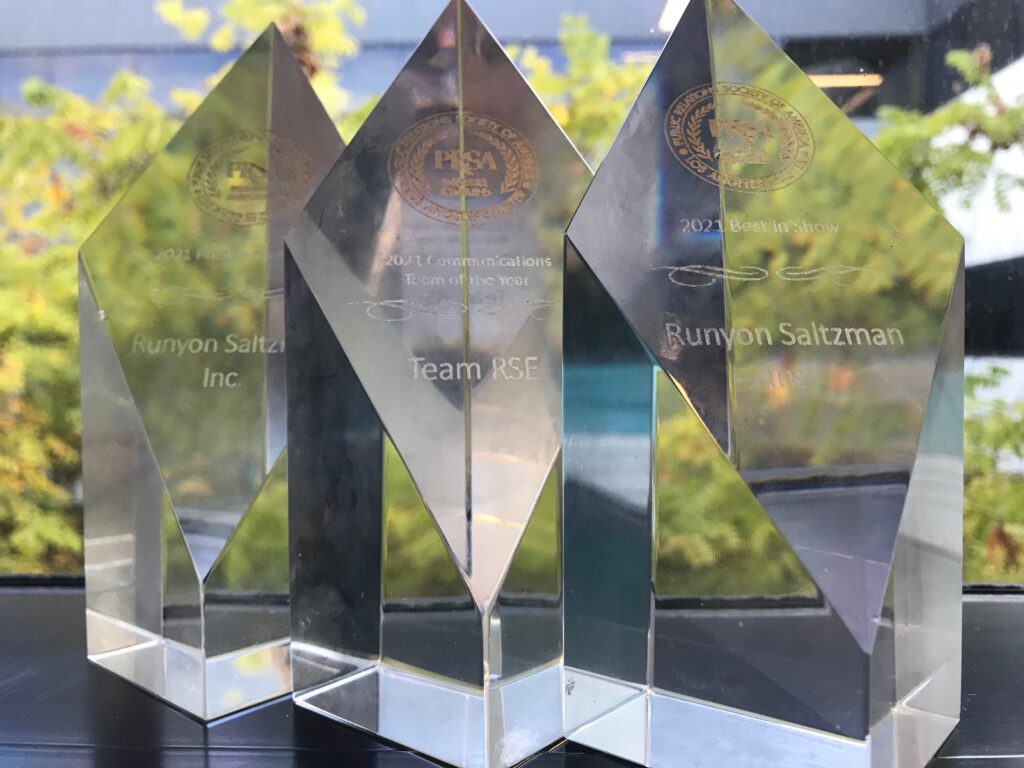 RSE and its partner agencies, known as Team RSE, were honored by the Los Angeles chapter of the Public Relations Society of America at its 57th Annual PRism Awards ceremony as the 2021 Communications Team of the Year for their unprecedented work for the State of California to change perceptions and actions to combat COVID-19. In all, Team RSE won nine awards for its extraordinary campaign and results, including the coveted President's Award, being named Best in Show and PRism Awards for Diversity Communications, Community Relations, Integrated Communications, Public Service, Press Conferences and Branded Content.
These prestigious awards recognize RSE's herculean efforts over the last year to build and mobilize a team of 14 communications agencies to address the biggest public health crisis in a century. Overall, RSE galvanized more than 140 communicators to execute the most complex campaign in California's history to curb the spread of COVID-19, protect populations and save lives.
The stakes for RSE couldn't have been higher when the agency was chosen in September 2020 by the Center at Sierra Health Foundation to lead the California COVID-19 Public Education Campaign for Governor Newsom, the California Department of Public Health and the California Department of Social Services. At that time, public health officials were racing to educate residents, particularly disproportionately impacted populations, on harm reduction behaviors, such as masking, physical distancing, hand washing and later, vaccinations.
RSE moved quickly to assemble an all-star team of communicators as diverse as the state itself, whose expertise spanned a wide variety of communications disciplines, including reaching the ethnically diverse audiences who were the State's primary focus – Latino/Hispanic, Black/African American, AIAN and AAPI communities.
"When we won this assignment, we knew that a business-as-usual approach wasn't going to cut it," said Chris Holben, RSE's President. "The pandemic was already taking a deadly toll in California. We had to innovate a new type of campaign, both in breadth and depth, to make the kind of impact our state needed."
Led by research, Team RSE built a unified, layered and integrated public awareness campaign that included an unparalleled mix of paid, earned, owned and shared channels for a state campaign, as well as real-life activations.
The comprehensive program included a multi-million-dollar paid campaign with original creative in every major and secondary market, prioritizing ethnic media, a statewide proactive earned media effort, engagement with hundreds of trusted celebrities and social media influencers and customizable content to aid outreach by hundreds of community-based organizations.
But Team RSE didn't stop with traditional platforms. We brought harm reduction and vaccination messages to people in their day-to-day lives by securing partnerships with faith-based organizations and outreaching to beauty shops, barbershops, community centers and small businesses in communities with large Black/African American populations and high COVID-19 rates. The team drew on the reach and relevance of public art to get the message out, and enlisted community-based artists to create and place 18 original art installations featuring harm reduction messages in some of the most impacted communities across the state.
Team RSE's efforts paid off on the most important metrics – the holistic public awareness campaign helped to increase vaccination rates, support of mask wearing, especially in diverse communities, and ultimately resulted in helping California to have the lowest coronavirus case rate of any state.
Team RSE included the tremendous work of California Black Media, CiviConnections, EMC Research, Ethnic Media Services, IW Group, LAGRANT Communications, Lucas Public Affairs, M&M Media Solutions, Nakatomi & Associates, NUNA Consulting Group, Sensis, SocialQuest, Solsken Public Relations & Marketing and VPE Tradigital Communications.
"Everyone who worked on this campaign feels honored to be entrusted to reach populations who have been disproportionately impacted by the pandemic with lifesaving harm reduction and vaccination information," continued Holben. "Together, we showed the true difference that communications can make when executed with the right strategy, creative tactics and tenacious compassion. We are delighted that PRSA Los Angeles has recognized this work with these PRism Awards."