May 25th, 2022
RSE Announces Appointment of Five Agency Vice Presidents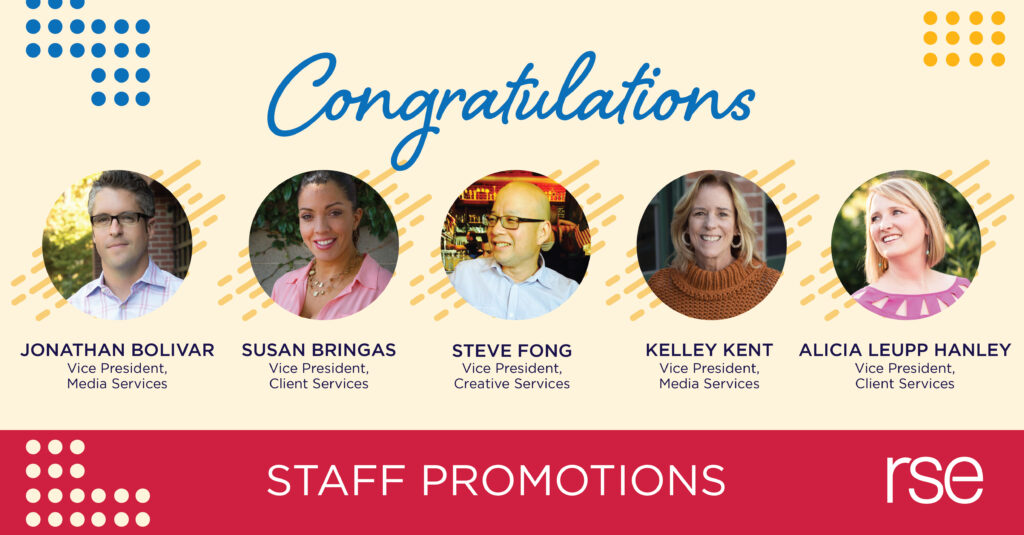 Scott Rose, Paul McClure, and I are pleased to announce the appointment of five agency leaders to Vice President positions at RSE. Steve Fong assumes the role of Vice President, Creative Services; Kelley Kent and Jonathan Bolivar become Vice Presidents, Media Services; and Susan Bringas and Alicia Leupp Hanley take on responsibilities as Vice Presidents, Client Services.

The promotions are reflective of the integral role each of these leaders play in agency operations and our confidence in their ability to work with us to collaboratively steward the agency's strategic direction and growth in the years to come. Collectively, the newly minted vice presidents bring passion and years of service and dedication in the disciplines of creative development, traditional and digital media and client relationship and campaign development.

As RSE continues to grow and add team members, both within California and throughout the U.S., the expanded RSE executive leadership team will share responsibility and accountability for our client service, creative, media, business development, administrative, and people management offerings and functions to ensure that RSE remains a preferred place to work and an agency of choice for current and prospective clients alike.