June 20th, 2022
Celebrating the first federal Juneteenth holiday, June 20th.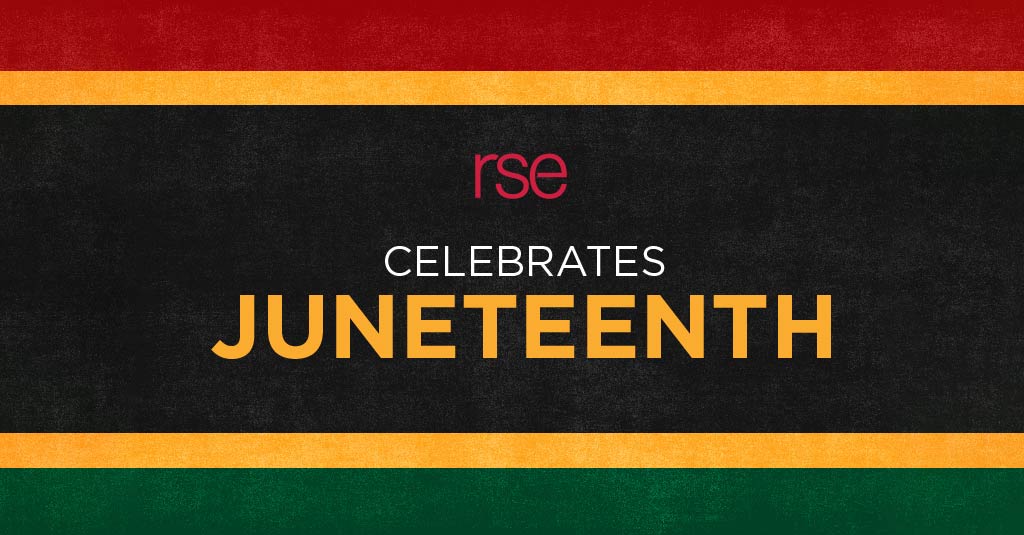 This Monday marks the first time RSE and others around the US will celebrate Juneteenth as an official federal holiday. While the state of Texas and many in the Black community have observed Juneteenth for years, President Joe Biden signed legislation making June 19 a federal holiday in 2021, following a year of turmoil in the community.
Juneteenth is the name given to June 19, the day that African American slaves in Galveston, Texas were freed as part of the Emancipation Proclamation. Galveston is thought to be the last stop by a tour of union soldiers to free slaves after President Abraham Lincoln signed the proclamation in 1863, which ordered the freedom of some 4 million slaves.
The arrival of Union soldiers in Galveston was the first the freed slaves had learned of their emancipation and the occasion sparked a celebration of dancing, singing, feasting and rejoicing.
Juneteenth was first celebrated in Texas in 1866, and Texas also made Juneteenth a state holiday in 1980. Today it is considered by many in the community to mark the actual end of slavery in the United States.
In fact, for many, Juneteenth supersedes the July 4th holiday as a day of Independence, since African American slavery was still legal in the south when the declaration of independence was signed on July 4, 1776, and African American slaves were written into the original US constitution as being only three-fifths of a person.
Whether this is your first time celebrating, or this holiday feels like a long time coming, there are ways to mark the occasion.
Though Juneteenth is celebrated in parts of Texas in similar ways to Independence Day with barbeques and street parties, it is less a typical Hallmark holiday than a day of observance.
Ways to honor the holiday include reading about the history of slavery in the United States leading up to the freeing of the last slaves in Galveston. Like the freed slaves in Texas, an important way to mark the occasion is to celebrate freedom and independence with family and friends.
Libraries, community centers, schools and universities and some businesses also often provide free cultural events for the community. Check with your city or county council or with the local Chamber of Commerce to find events in your area.
The day is also another important opportunity to support Black artistry and patronize Black businesses.
Moreover, as there are still many in the US who do not celebrate Juneteenth, acknowledge that it may be an important, emotional occasion for employees, colleagues, friends and loved ones.

RSE's offices will close on June 20 to mark the holiday and re-open for regular business the following day.
For more information about Juneteenth, visit Juneteenth.com