October 31st, 2022
Celebrating RSE Founder's Spooky Tradition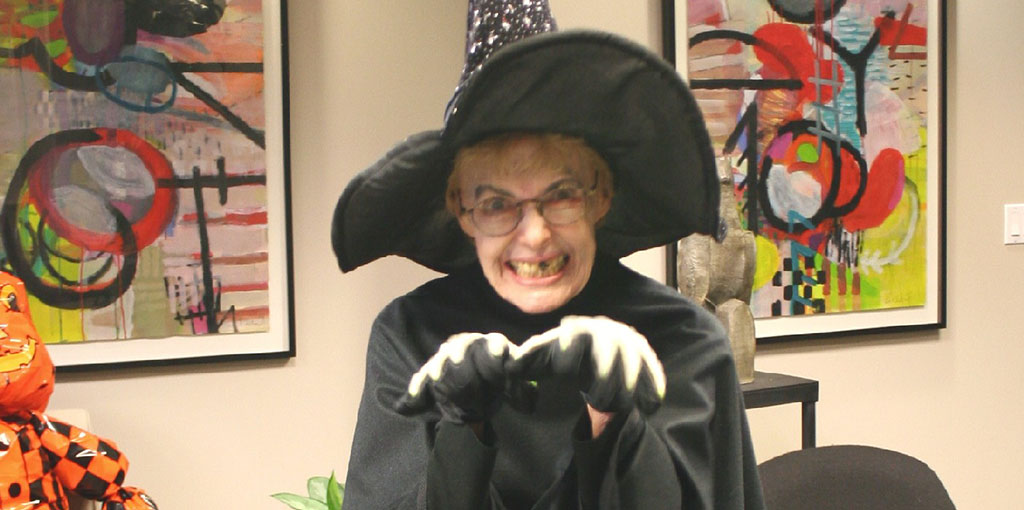 If there's one universal truth at RSE, it's that Jean Runyon will always be the queen of Halloween. And though our fearless founder is no longer with us, we still honor her tradition every year with spooky celebrations, décor and shenanigans galore.
An actress to her core, Jean portrayed a witch from the rooftop of her home every Halloween for more than three decades. As many great origin stories do, it all started with a simple dare from her husband. While Mercer Runyon may have been joking at the time, Jean really took it to heart. Thus, her witchy woman persona was born, much to the delight of thousands of trick-or-treaters, scores of television cameras and too many admiring friends and colleagues to count.
Jean wholeheartedly embraced her alter ego. Though she was famous for her cheery disposition and can-do attitude eleven months out of the year, October was her time to let loose, break out her best cackle and get on with her bad self. Those who knew her suspect that Jean's inner "dark side" stemmed from a lifelong love of theatrics and rejection of the idea that getting older means you have to grow up.
This year, we honored Jean and her favorite holiday with a little contest. Employees gathered together to customize witch hats with pom poms, googly eyes and anything else we could find. Turns out, we all have an inner child and an inner witch inside us. It's a big hat to fill, but we hope that if Jean saw us now, we'd be doing her proud.
From the bottom of our haunted hearts, we wish you a happy Halloween from RSE! May your candy bowls and hearts be full on October 31.